The number of possible surprises next Tuesday are endless, but one I think I would take over all others is the defeat of Sen. Saxby Chambliss (R-Ga.).  You probably only vaguely recall the name, but let me remind you that he was the one who rode to office in 2002 on this despicable piece of garbage that placed Sen. Max Cleland – a longtime Georgia public servant – alongside Osama bin Laden: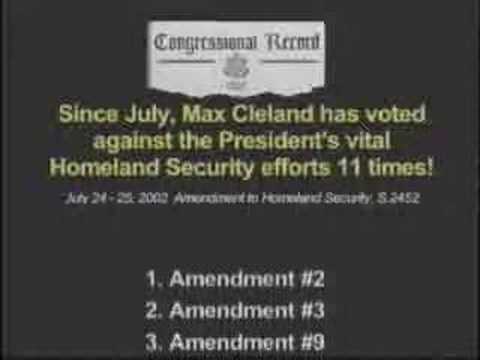 Saxby cemented his place at the bottom of the GOP sleaze barrel with that, and deserves a resounding defeat next Tuesday, as explained by the Atlanta Journal-Constitution:
If Chambliss is defeated by an advertising assault free of context or fairness, score a win for retributive justice. He won the seat by running one of the most despicable ads in the Republican playbook —- no easy thing to do.

McCain and his running mate, Sarah Palin, have themselves followed the Rovian low road by questioning Obama's patriotism and linking him to "terrorists." But even McCain condemned as "reprehensible" a Chambliss ad against Democratic incumbent Max Cleland, a Vietnam War triple amputee, in 2002.
I can't say that I've got much faith in my Georgia brethren, but if I were to be granted one surprise wish for next Tuesday, it would be Saxby paying the price for what he did six years ago.