Of everything I have on my to-do list today, getting down the "rock dodge" drill for a cycling instructor course is probably the most difficult.  The result isn't particularly challenging (dodging a rock), it's the method by which you're required to do it (a seemingly unnecessary bit of countersteering).  In any event, if that's the toughest part of the day, it should be a good day, no?  Now on to bits and pieces collected over the week:
30 airports in 30 days. Â I remember wishing I could do this, when I saw the JetBlue pass on sale. Â It's been at least 5 years since I last did a "mileage run" (something you do to push yourself just over the line for the next medallion status in a frequent flier program), and quick travel appeals less than it used to. Â But this? Â Sounded like a bit of fun.
Travelling at a slower speed is what's gained my interest, lately, and this piece on a significant uptick in bicycle touring makes it sound like I've got some company. Â A proper cycling tour has been bouncing around in my head for a while, and I think Taiwan cemented my decision to make it happen soon. Â  It'll probably start with a long weekend's out and back along the C&O, to sort things out. Â Then maybe a SF-LA (via the PCH) week trip? Â After that, who knows? Â I should probably stop reading this site, if I want to keep it reasonable . . .
~
Here are a couple of interesting pieces on control in the marketplace. Â The first is about the differing approaches between Facebook and Google on the matter of who controls your data. Â You know you're doing it wrong when you make Google look unthreatening by comparison. Â (I keep trying to kick the Facebook habit, but it's tougher than you might imagine. Â Serious network effect going on, there.) Â  The second is a post by a San Francisco restauranteur, and why he doesn't use OpenTable. Â It's really quite interesting, the amount of leverage that OpenTable (with its dominance of the market) has on metro area restaurants. Â  I've been using OpenTable since they arrived in DC (2003?), but this (and, well, this) makes me hope that a competitor will be arriving shortly.
~
I admit that, despite the rather large rhetorical role that it's played in Virginia's politics, I've never taken a close look at "clean coal" (or the veracity of a million claims about it). Â So while I realize that it's just scratching the surface, I felt like I learned a fair bit from the always-informative James Fallows in this article:
To environmentalists, "clean coal" is an insulting oxymoron. But for now, the only way to meet the world's energy needs, and to arrest climate change before it produces irreversible cataclysm, is to use coal—dirty, sooty, toxic coal—in more-sustainable ways. The good news is that new technologies are making this possible. China is now the leader in this area, the Google and Intel of the energy world. If we are serious about global warming, America needs to work with China to build a greener future on a foundation of coal. Otherwise, the clean-energy revolution will leave us behind, with grave costs for the world's climate and our economy.
If anyone has rebuttals to this article that I should check out, do pass them along.
~
Michael Turton, a Taiwan-based blogger, highlights what I think is a compelling political ad explaining why it's important to care about politics.  Watch it: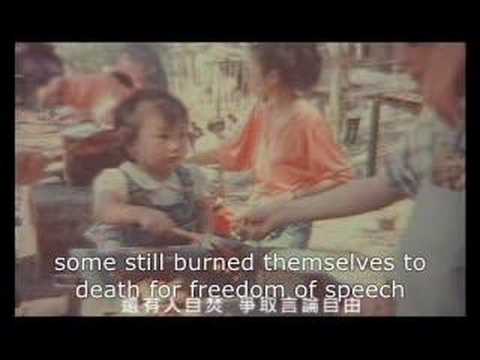 Yes, it's in the context of Taiwan, but it struck me as hitting universal truths.